In today's ever-fluctuating economy, many are turning their eyes to the time-honored stability of precious metals. If you're a beginner interested in purchasing precious metals such as gold and silver coins, this post is your guide to understanding the precious metals industry.
This comprehensive guide will compare LPM to traditional banks, focusing on critical aspects such as account opening, product range, storage service, and buyback service for precious metals.

---
SECTION 1

:

$0 ACCOUNT OPENING FEE

👛

Begin Your Journey Without Barriers



Starting a collection in precious metals is an exciting venture, and LPM ensures that this journey begins smoothly. Same as most banks, LPM offers a $0 account opening fee, providing a highly accessible gateway to precious metals. However, LPM goes beyond this initial step, providing ongoing support, guidance, and comprehensive tools to help you explore and enjoy your interest in precious metals. This zero-cost start is an invitation to a world rich in history, art, and intrinsic value.


SECTION 2: SIMPLE ACCOUNT OPENING PROCEDURE

🔄
STREAMLINED AND USER-FRIENDLY
Time is valuable, especially when it's spent pursuing your passions. LPM understands this and has designed an online account opening procedure that respects your time. Unlike traditional banks, where physical presence and paperwork might be required, LPM's platform allows you to start your precious metals collection from the comfort of your home. With step-by-step guidance, responsive customer support, and a system designed for ease of use, LPM ensures that convenience is at the forefront of your experience.
Create an Account with LPM now
You can open an account online for free by clicking Sign Up Here - Simply fill in the required fields and email a copy of your identification document to cs@lpm.hk. You can immediately shop at WWW.LPM.HK or at the LPM Store once the account is opened.


SECTION 3: IMMEDIATE AVAILABILITY OF IN-STOCK PRODUCTS
🛍️
a robust IN-STOCK inventory
In the fast-moving world of precious metals, availability is essential. LPM distinguishes itself by offering an extensive array of in-stock products that are ready for immediate purchase. Whether browsing our website or visiting the LPM Store, you'll find a diverse and rich selection of precious metals ready to become part of your collection.
Unlike traditional banks, where the limited selection may lead to long waiting times or mostly need to pre-order, LPM ensures that your interest in precious metals is met with instant gratification. The convenience of immediate purchase allows you to seize opportunities and enjoy your collection without delays.
LPM's commitment to maintaining a robust in-stock inventory sets it apart from banks, allowing you to explore and enjoy the multifaceted world of precious metals without waiting. It's not just about variety; it's about providing you the freedom to buy and get the products right away, making your experience in precious metals both satisfying and efficient.


SECTION 4: WIDE VARIETY OF PRODUCT TYPES

📦
OVER 2000+ CHOICES
With LPM, variety is more than a slogan; it's a core philosophy. Offering over 2000+ product types, LPM recognizes that each collector's journey in precious metals is personal and unique. Whether you're drawn to historical coins, artistic pieces, or specific themes, LPM's catalog spans a broad spectrum of precious metals from our official partnership with Mints and numismatic organizations all around the world. This extensive range sets LPM apart from banks, which may offer a very narrow selection, limiting your ability to explore and enjoy the multifaceted world of precious metals.


SECTION 5: RELIABLE STORAGE SERVICE

🔏
SECURITY WITH PEACE OF MIND
A precious metals collection is more than a financial asset; it's a tangible expression of culture, history, and personal value. LPM provides specialized storage services tailored to the needs of precious metals. Your metals are securely stored with Brink's Hong Kong or Brink's Singapore and are comprehensively protected under Brinks' insurance policy. The annual rates for this service are transparently listed, with storage fees billed yearly on July 1st. For those new to this service, the fees will be calculated on a pro-rata basis up to July 1st for the initial billing period. With the LPM Group, you can confidently entrust your precious metals to a secure and professional environment, knowing that your investment is safely preserved and insured. Your collection deserves a safe home, and LPM is committed to providing that sanctuary.


SECTION 6: TRANSPARENT BUYBACK SERVICE

💲
transparency and trust
LPM's buyback service reflects a commitment to flexibility and transparency. With more than 70 buyback products and real-time pricing available on its website, you have the information and options to make informed decisions about your precious metals collection. Unlike traditional banks, which only offer limited buyback options, LPM provides a transparent, efficient, and customer-friendly approach. Whether you're looking to sell a single piece or modify your entire collection, LPM's buyback service is designed to support your choices.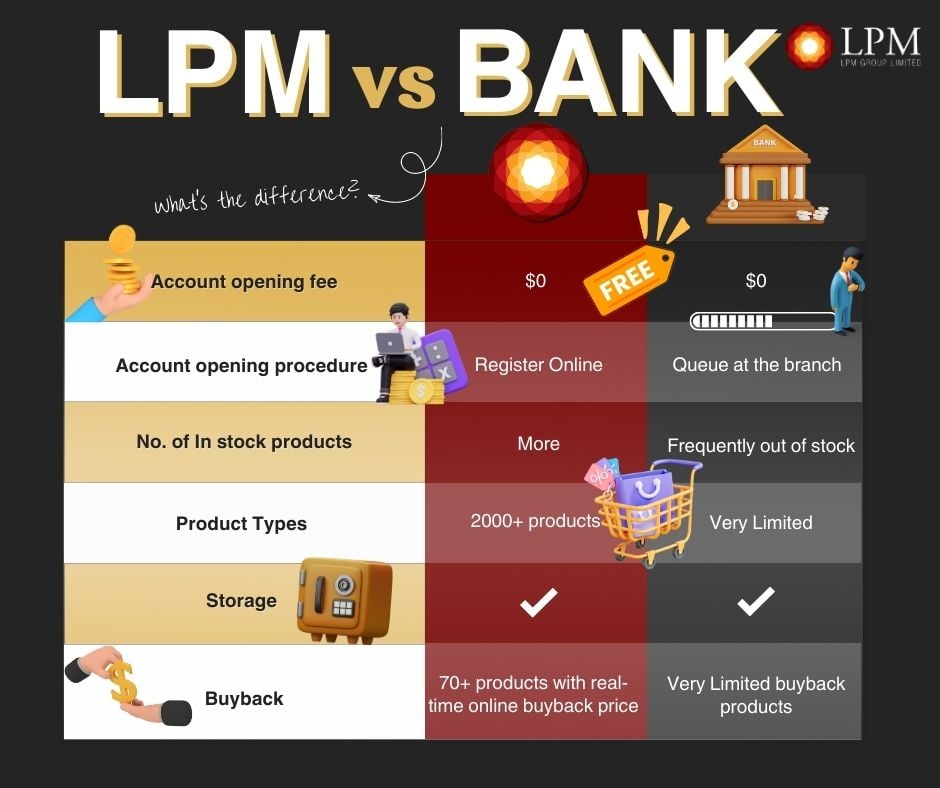 CONCLUSION
LPM's dedication to offering a safe, authentic, professional, and convenient platform shines through in every aspect of its service. From the welcoming start of a zero-cost account opening to an unmatched variety of in-stock products, from personalized storage services to a transparent buyback policy, LPM stands as a trusted partner in the world of precious metals.
Are you eager to dive into the world of precious metals with a partner that shares your passion and respects your choices? Talk to the LPM customer service team today or learn more about how to start your collecting journey with the quick start guide.



DISCOVER SILVER BULLION
DISCOVER GOLD & PLATINUM BULLION
DISCOVER ON-SALE PRECIOUS METALS PRODUCTS